I've so much to talk about. My brain is stuffed with marvelous, important, powerful, moving, insightful, mind-blowing, life-changing World Con experiences. Unfortunately, my brain is nowhere near ready to express them in terms that will do them justice. The last night of the con I stayed up the entire night--not because I was devastated for having lost the Campbell Award a second time (I'm totally not) but because I was with amazing people and having an incredible time, and I didn't want it to end. Silly, I know. But I've always been bad at goodbyes. So, bare with me while I give this a try on no coffee--I badly need to sleep but I'm afraid I'll forget things I want to write down. Here goes: When you get to know me It becomes pretty obvious in short order that I've got a love-hate relationship with Texas. So, I'll be honest. Due to the issues that arose with the programming before the convention started (and due to my own head space leftover from last year in Chicago) I had low expectations of this year's convention, both on a personal level and regarding how well the Texas ego-culture could support a hospitable atmosphere for visitors from other countries--let alone other states, and other races. (I did mention I have a love-hate relationship with Texas, right?) However, I had a marvelous time, regardless of the spectacular fuck-ups and implied insults and situations that could've potentially become abusive. When I think about it, I guess Texas is kind of a fucked-up place. However, I have to give Texas credit. It does try its heart out when it comes to doing the right thing. (Of course, this comes only after it stubbornly bashes its head on the wall until it figures out what the hell the right thing is.) But you know what? That's humanity all over, isn't it?
The energy at San Antonio--at least from my experience--was completely different from Chicago. That's no shocker. Texas is a boisterous environment filled with 'character.' Sometimes it's warm and welcoming and open, and sometimes it's hateful and selfish and egotistical. Understand that no culture is perfect because no people are perfect. But also understand there's always that push-pull going on within Texas culture. It tends to squash flat any minority group that isn't a member of Tribe Good Old Boy, and at the same time it will happily and courageously park on top of a crumbling wall and defend what it deems a Just Cause to the bitter end. I guess Texas is a little crazy that way, and it's pretty messed up--particularly when wires get crossed and that Last Stand gets organized around a truly terrible and destructive cause. But damn it, Texans are stuffed to the brim of those cowboy hats with some admirable qualities. It almost makes up for the bullcrap. Almost. Unfortunately, there are also certain big problems regarding silencing behavior within Texas--particularly when a member of Tribe GOB is involved. They tend to sweep things under the rug instead of owning mistakes.

But I'm a big believer in speaking up. Because you can't learn from lessons you don't acknowledge, and if you can't acknowledge or learn then you can't move on and change. And this is why I reacted to the following situation the way I did.
I'll start with the Yellow Roses: Texas Female Authors and the Issues They Face. The issues around being an author of the female persuasion in Texas pretty much starts and finishes with the title. First, it's hugely offensive. Let's look at the fact that women who are authors are being segregated from "authors" not from "male authors." This is the biggest problem inherent in assuming that the default state of being is male. The subtext is that women aren't included in the word "authors." That's a subtle point that some people just aren't going to understand no matter how many tiimes we go over it. BUT the biggest problem with the title of that panel wasn't even that. It was with "Yellow Rose." It comes from an old song that is very much a part of Texas history titled The Yellow Rose of Texas. The song title refers to Emily D. West (Morgan) and was orginally an insulting jibe at Santa Anna who was supposedly caught off guard during the Battle of San Jacinto because he was in the middle of raping West--a slave woman of color who had been forced into prostitution when she was captured by the Mexican forces.[1] The song's intent is not singing the praises of West who was a non-person in that era because she was part black. The song is about embarrassing and mocking Santa Anna who lost the Battle of San Jacinto in less than twenty minutes because his pants were down.
Now. Let's stop and think about the layers of wrong in this debacle. [breathe] I can only assume that whomever named that panel either wasn't thinking farther than the end of their nose, or thought that the panelists wouldn't notice the 'subtle joke' at their expense. Believe you me, none of the women on that panel are dim-witted. We noticed instantly. For the record, we could've made that title go away pre-con. I know for a fact that it was well within my power to do so. However, I felt (and feel) it illustrates in a powerful, blunt way the problems it was genuinely designed to address. Placed in the hands of less skilled and intelligent panel members that panel would've been a train wreck. It wasn't. It was momentous and empowering. The audience was comprised of about 65% women and 35% men.[2] Moon (the moderator) started with her comments on the Yellow Rose aspects of the title and then addressed how we were being segregated from 'real authors.'[3] We talked about the questions women who write get asked.[3] I talked about how just because a woman says it, it doesn't make it Feminist and 'okay' because we internalize misogyny too. "I know I often sound angry and passionate on the subject of Feminism. It's because I was raised by a pack of wild misogynists, and I'm fighting with the one that was installed in my brain." I said mistakes are okay, but the injured party decides when a mistake is absolved and/or the apology is enough--not the person made the mistake and/or issuing said apology. I thanked the men present in the room because they were obviously making an attempt at change by attending and staying with the panel no matter how uncomfortable they might get.[4] I also attempted to point out that the situation had nothing to do with pointing out that this problem was an "Old White Male" problem and that we just needed to wait for them to die off. I brought up stories of young men being spectacularly sexist. Patrice Sarath had stories to tell of her experiences as did Lillian Stewart Carl. We shared things that most women don't bother to actually say because it's so endemic of SF culture that you just learn to accept it. The really, really neat part of all this is that for the first time--and I've watched Feminism come and go in various waves--I felt women were actually being listened to and that their words were being taken in and understood. I sensed a willingness to move past the anger on both sides of the issue and provide action and real support. I'm serious. I've never seen that before. Usually women speak, the room gets quiet and uncomfortable, some guy attempts to argue about how the point of view being expressed is not valid ('let me explain to you why it isn't valid because your ladyness causes you to misunderstand things, and thus, how your experience of it is wrong'[5],) and then women stop speaking because they've just been told to shut up (usually with a joke because, gosh, things got too heavy there, little lady,) and then men get relieved that the grousing is 'finally' over. Problem solved.

Um. NO.
What was demonstrated in that room was that the males of Geekdom are actually giving this a great big try. They LISTENED. They didn't try to edit the responses they were hearing. They didn't re-explain to us our experience. There was even a situation later in the con that could have escalated and men stepped up to call one of their own on it. The situation was defused before it became a problem. Holy crap. That was huge and affected my impression of the con so deeply that I can't express it. I felt safe. I felt validated. And you know what? Some of that resentment I carry in my head was healed last week.
This post is getting too long to read so I'll try to keep it short... I won't go into detail, but the Magical Realism panel was another problematic one. And was... bumpy, but with patience, everyone got through it. I had certain experiences afterward that did a mighty fine job of illustrating second wave Feminism's flaws. And you know what else? You all should go out and read Guadelupe Garcia McCall's work, like, NOW! I know I will.
That's all I'm going to say about the programming end of things. Sure, there was an overt Libertarian Agenda thread throughout. But it didn't get in the way of my good experience of the convention because I was nowhere near that programming. And you know what? That was beyond terrific.
Now I'll talk about the Campbell Award. Being nominated is an amazing experience that was made even better by the amazing people that were nominated this year. Mur Lafferty, Chuck Wendig, Max Gladstone, and myself--the four of us bonded. (We were all very sorry that Zen Cho couldn't make it.) It's very difficult to form positive relationships under competitive high stakes circumstances. Knowing this, I did my best to combat that. On Saturday, I told the others that I felt we should all get tiaras. Together. Because all of us were winners[6] and honestly, the winner doesn't get to keep the tiara either. I thought having a tiara would ease the pain of losing for all of us and that it would ease the guilt of winning too. But I was heavily programmed over the weekend. There wasn't any way I could make it happen. Losing hurt like hell last year. I didn't want the others to go through that. Well, Mur and Max and Max's wife, Stephanie, DID go get those tiaras. And they didn't just buy tiaras for us. They bought one for Ben Bova as well. We wore them for the panel on 40 years of the Campbell Award.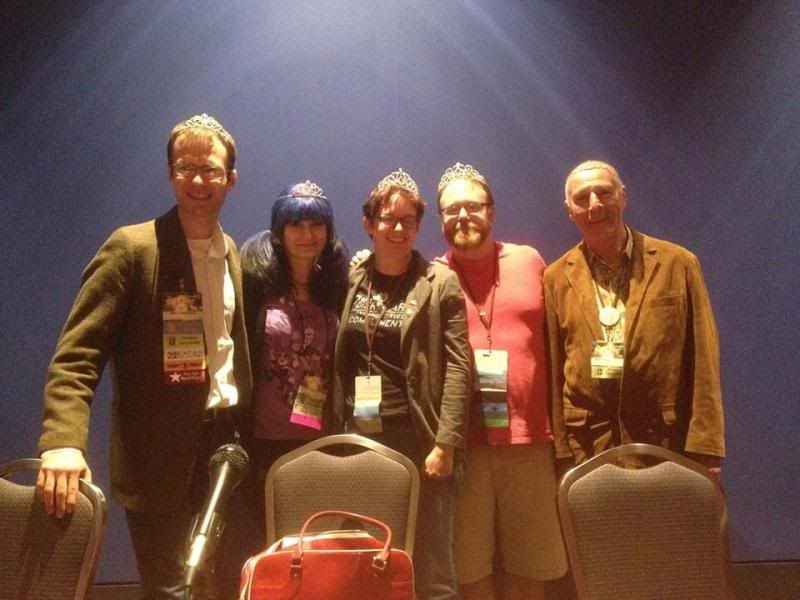 Club Tiara is FOREVER. I love you all.

That said... I didn't win the Campbell Award, Mur did, but she didn't beat me by much. You know what? Coming in second Does. Not. Suck. THANK YOU.
----------------------------------
[1] Although, arguably the term 'prostitute' isn't applicable. It's not like she was being paid for being raped by troops.
[2] More men may have been present. It may have even been more like 40% male. I just remember being shocked by the number of men who came to hear authors who happen to be female, speak of their experiences in Texas.
[3] Do you write for children? Do you write Romance? Do you write Erotica? And then come the questions that basically come down to 'Is your work childish and shallow?'
[4] Two men left in a huff.
[5] Because you, Sir I've-Never-Met-Before, live in *my* brain and are a expert on *my* feelings and thoughts just because you're a Good Guy™. Um, not just no, but HELL NO.
[6] A friend of mine is in the music business and he said, "It's like the Grammy. Being nominated IS winning." When I heard that in his very soothing British voice, I finally got it.